Inmate Record Check
Mugshot, Arrests, Bookings & More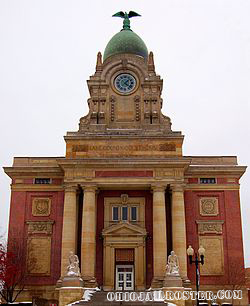 Perform a free Willoughby Ohio arrest records search, including mugshots, jail roster, recent arrests, and active booking logs.
The Willoughby Police Department is a law enforcement agency located in Lake County, Ohio. The department is staffed with 43 full-time officers and 20 part-time officers. The officers within the department are responsible for patrolling the city, responding to calls for service, deterring crime, investigating and solving crimes, and making local arrests. The department also has 23 support personnel. Nine of those support personnel are dispatchers. Dispatchers are responsible for answering calls for service and dispatching the appropriate units. Other support personnel staff are responsible for maintaining police reports, arrest records, property, and evidence logged into the department. The mission of the department is to provide a safe environment for citizens to live and work.
James Schultz, Chief of Police
Willoughby Police Department
36700 Euclid Avenue
Willoughby, OH 44094
Lake County
Phone: 440–953-4212
Fax: 440-953-4225
Population Served: 22,000
Number of Officers: 67
All persons arrested by the Willoughby Police Department are transported to the Lake County Jail. The Lake County Jail is a minimum to maximum security facility located in Painesville, Ohio. The jail houses adult offenders who have been arrested and charged with misdemeanor or felony offenses.
Inmates are encouraged to visit with their friends and family members while they are incarcerated. Inmates can visit in person or via video.
Onsite Visitation:
Male Inmates:
Monday, Tuesday, Thursday and Friday
1 pm to 2:30 pm and 6 pm to 8 pm
Sunday
8am to 10:30 am, 1 pm to 2:30 pm and 6 pm to 8 pm
Female Inmates:
Wednesday
1 pm to 2:30 pm and 6 pm to 8 pm
Saturday
8am to 10:30 am, 1 pm to 2:30 pm and 6 pm to 8 pm
Video Visitation:
Monday-Sunday
8am to 10 am, 11 am to 2:45 pm and 4 pm to 11:30 pm
The crime rate in Willoughby, Ohio is 94. The overall crime rate is 2.9 times lower than the US average. It is higher than the crime rates in 38.4% of all cities in the US. The annual crime rate has decreased by 25% in the last year. Willoughby has seen a decline in violent and property crimes. Willoughby has a livability score of 86/100, which is considered exceptional. Willoughby crime rates are 25% lower than the Ohio average.