Inmate Record Check
Mugshot, Arrests, Bookings & More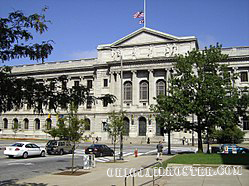 Perform a free Bay Village Ohio arrest records search, including mugshots, jail roster, recent arrests, and active booking logs.
The Bay Village Police Department is a law enforcement agency located in Cuyahoga County, Ohio. The department is composed of 4 main divisions: investigations, patrol, records and SRO. The investigations division investigates violent and property crimes. The patrol division consists of the officers first on the scene of a crime or traffic accident. These officers are responsible for making local arrests, filing police reports, responding to traffic accidents and conducting traffic stops. The records division maintains all police records that come through the department, such as arrest records. The SRO division is composed of School Resource Officers who are posted at various schools within the city. The department is dedicated to providing the highest level of professional service to the community.
Rob Gillespie, Chief of Police
Bay Village Police Department
27214 Wolf Road
Bay Village, OH 44140
County: Cuyahoga
Phone: 440-871-1234
Fax: 440-899-3478
Population Served: 17,000
Number of Officers:28
All persons arrested by the Bay Village Police Department are transported to the Cuyahoga County Corrections Center. The Cuyahoga County Corrections Center is a minimum to maximum security facility located in Cleveland, Ohio. The center has 2 locations, Downtown and Euclid. The Downtown Jail is the primary facility. The Cuyahoga County Corrections Center houses inmates who have been charged with both misdemeanor and felony charges. Inmates are either awaiting trial, serving out their sentence or awaiting transfer to a state prison. The Corrections Center houses over 26,000 inmates annually and employs 700 correctional staff.
Inmates are allowed weekly visits with their friends and family. All visits are through a video recording system. Visitors can use their smartphones or laptops from home or can use a kiosk at the jail for visitation. Visitation can be scheduled online using the Securus Technologies website. An account is needed to schedule a visit.
The crime rate in Bay Village, Ohio was 39 in the year 2019. The overall crime rate is 6.9 times smaller than the US average, and 15.2% higher than all of the cities in the US. The annual crime rate has increased by 54%. In the last 5 years, Bay Village has seen an increase of violent and property crimes. Bay Village has a livability score of 93/100, which is considered exceptional. Bay Village crime rates are 60% lower than the Ohio average.