Inmate Record Check
Mugshot, Arrests, Bookings & More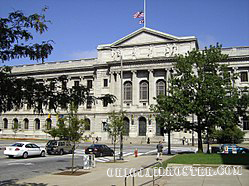 Perform a free Garfield Ohio arrest records search, including mugshots, jail roster, recent arrests, and active booking logs.
The Garfield Heights Police Department is a law enforcement agency located in Cuyahoga County, Ohio. The department is responsible for deterring crime, solving crimes, responding to calls for service, making local arrests, maintaining police reports, and providing community programs. The department provides services such as a drug drop off box, fingerprinting, dog licensing and K9 services.
Mark Kaye, Chief of Police
Garfield Heights Police Department
5555 Turney Road
Garfield Heights, OH 44125
Cuyahoga County
Phone: 216-475-1234
Fax: 216-475-0639
Population Served: 30,000
Number of Officers: 62
All persons arrested by the Garfield Heights Police Department are held at the Garfield Heights City Jail. The city jail is a 12 day holding facility. If an arrestee is being held for longer than 12 days, they are transferred to the Cuyahoga County Corrections Center. The Cuyahoga County Corrections Center is a minimum to maximum security facility located in Cleveland, Ohio. The center has 2 locations, Downtown and Euclid. The Downtown Jail is the primary facility. The Cuyahoga County Corrections Center houses inmates who have been charged with both misdemeanor and felony charges. Inmates are either awaiting trial, serving out their sentence or awaiting transfer to a state prison. The Corrections Center houses over 26,000 inmates annually.
The crime rate in Garfield Heights is 293. The overall crime rate is comparable to the US average. It is higher than 83.6% of all towns and cities in the US. The annual crime rate has decreased by 5%. In the last 5 years, Garfield Heights has seen an incline in violent crime and a decline in property crime. Garfield Heights has a livability score of 61/100, which is considered below average. Garfield Heights crime rates are 44% higher than the Ohio average.