Inmate Record Check
Mugshot, Arrests, Bookings & More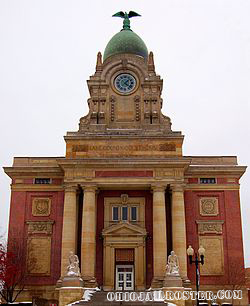 Perform a free Willowick Ohio arrest records search, including mugshots, jail roster, recent arrests, and active booking logs.
The Willowick Police Department is a law enforcement agency located in Lake County, Ohio. The department is composed of 23 officers including a chief of police, 2 lieutenants, 4 sergeants, 2 detectives, and 14 patrol officers. Officers within the department are responsible for responding to calls for service, deterring crime, investigating crimes, making local arrests, and providing various services to the community. The department also has 9 civilian staff. The civilian staff acts as dispatchers and records clerks. These individuals answer calls for service and dispatch the appropriate units. Records clerks are responsible for maintaining all police reports and arrest records processed through the department. The department also provides community service programs to the public, such as DARE and a drug drop off box.
Brian Turner, Chief of Police
Willowick Police Department
30435 Lake Shore Blvd
Willowick, OH 44095
Lake County
Phone: 440-585-1234
Fax: 440-585-3770
Population Served: 14,000
Number of Officers: 23
All persons arrested by the Willowick Police Department are transported to the Lake County Jail. The Lake County Jail is a minimum to maximum security facility located in Painesville, Ohio. The jail houses adult offenders who have been arrested and charged with misdemeanor or felony offenses.
Inmates are encouraged to visit with their friends and family members while they are incarcerated. Inmates can visit in person or via video.
Onsite Visitation:
Male Inmates:
Monday, Tuesday, Thursday and Friday
1 pm to 2:30 pm and 6 pm to 8 pm
Sunday
8am to 10:30 am, 1 pm to 2:30 pm and 6 pm to 8 pm
Female Inmates:
Wednesday
1 pm to 2:30 pm and 6 pm to 8 pm
Saturday
8am to 10:30 am, 1 pm to 2:30 pm and 6 pm to 8 pm
Video Visitation:
Monday-Sunday
8am to 10 am, 11 am to 2:45 pm and 4 pm to 11:30 pm
The crime rate in Willowick, Ohio is 75. The overall crime rate is 3.6 times lower than the US average. It is higher than the crime rates in 30.4% of all cities in the US. The annual crime rate has decreased by 30% in the last year. In the last 5 years, Willowick has seen a decline in both violent and property crimes. Willowick has a livability score of 81/100, which is considered exceptional. Willowick crime rates are 1% higher than the Ohio average.