Inmate Record Check
Mugshot, Arrests, Bookings & More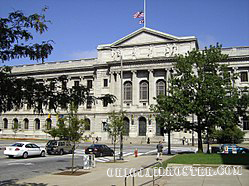 Perform a free Warrensville Heights Ohio arrest records search, including mugshots, jail roster, recent arrests, and active booking logs.
The Warrensville Heights Police Department is a law enforcement agency located in Cuyahoga County, Ohio. The department is composed of 32 sworn officers, an animal warden, civilian support staff, and 4 dispatchers. The officers within the department are responsible for responding to calls for service, deterring crime, conducting criminal investigations, making local arrests, and providing services to the community. The animal warden is responsible for responding to calls involving stray or wild animals. The support staff is responsible for answering general inquiries the public makes, and maintaining all police reports and arrest records logged into the department. The dispatchers answer incoming calls for service and send the appropriate units to the scene of the crime or traffic accident. The department also provides programs and services to the community to help prevent crimes such as DARE, home checks, senior and junior police academies, and self-defense classes. The department is committed to the safety and security of all citizens of Warrensville Heights.
Wesley Haynes, Chief of Police
Warrensville Heights Police Department
4743 Richmond Road
Warrensville Heights, OH 44128
Cuyahoga County
Phone: 216-581-1234
Fax: 216-518-2772
Population Served: 15,000
Number of Officers: 32
All persons arrested by the Warrensville Heights Police Department are housed in the North Royalton City Jail. The jail is a full-service facility. It houses inmates who are arrested and incarcerated for a short period of time. If an inmate is going to be incarcerated for more than 3 months, the inmate is transferred to the Cuyahoga County Corrections Center. . The Cuyahoga County Corrections Center is a minimum to maximum security facility located in Cleveland, Ohio. The center has 2 locations, Downtown and Euclid. The Downtown Jail is the primary facility. The Cuyahoga County Corrections Center houses inmates who have been charged with both misdemeanor and felony charges. Inmates are either awaiting trial, serving out their sentence or awaiting transfer to a state prison. The Corrections Center houses over 26,000 inmates annually.
The crime rate in Warrensville Heights, Ohio is 313. The overall crime rate is similar to the US average. It is higher than the crime rates in 85.7% of all cities in the US. The annual crime rate has decreased by 29% in the last year. In the last 5 years, Warrensville Heights has seen a decline in violent and property crimes. Warrensville Heights has a livability score of 74/100, which is considered excellent. Warrensville Heights crime rates are 26% higher than the Ohio average.