Inmate Record Check
Mugshot, Arrests, Bookings & More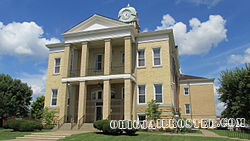 Perform a free Adams County Ohio inmate records search, including jail rosters, inmate list, persons in custody, recent arrests, mugshot lookups, and active booking logs.
The Adams County Jail is a minimum to maximum security facility located in West Union, Ohio. The facility houses inmates who have been arrested and charged with misdemeanor and felony offenses. Inmates are either awaiting trial or serving out their sentences. The jail books an average of 4,000 inmates annually. The public can view inmates on the public jail roster provided by the county.
Adams County Jail
110 West Main Street
West Union, OH 45693
Phone: 937-544-2314
How to Send Mail or Package
Inmates can receive mail at:
INMATE NAME
Adams County Jail
110 West Main Street
West Union, OH 45693
All mail received is searched before it is given to the inmate.
Visitation Hours
Inmates are allowed visitation with their friends and family. Visitation hours depend on the inmate's classification levels and the unit they are housed in. Contact the jail for visitation hours.
The Adams County Jail updates their jail roster every 24 hours. The jail roster lists the inmates in the order in which they were booked. The roster lists the inmate's name, age, booking date, charges, mugshot, arresting agency and their inmate classification level.