Inmate Record Check
Mugshot, Arrests, Bookings & More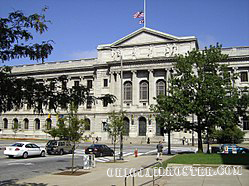 Perform a free Cuyahoga County Ohio inmate records search, including jail rosters, inmate list, persons in custody, recent arrests, mugshot lookups, and active booking logs.
The Cuyahoga County Corrections Center is a minimum to maximum security facility located in Cleveland, Ohio. The center has 2 locations, Downtown and Euclid. The Downtown Jail is the primary facility. The Cuyahoga County Corrections Center houses inmates who have been charged with both misdemeanor and felony charges. Inmates are either awaiting trial, serving out their sentence or awaiting transfer to a state prison. The Corrections Center houses over 26,000 inmates annually and employs 700 correctional staff.
Cuyahoga County Corrections Center-Downtown
1215 West Third Street
Cleveland, OH 44113
Phone: 216-443-6211
How to Send Mail or Package
Inmates are allowed to receive letters and photographs from their friends and family members. No packages or money will be accepted through the mail. Paperback books can be sent to inmates, but must be sent directly from the distributor such as Amazon.
Mail can be sent to:
Inmate Name and SO Number
Cuyahoga County Jail
PO Box 5600
Cleveland, OH 44101
Funds can be added to an inmate's account onsite or online. To deposit funds onsite, visit the kiosk located in the downtown jail's lobby. The jail uses a 3rd party provider called JPay for depositing funds online. To deposit funds online, visit the JPay website.
Visitation Hours
Inmates are allowed weekly visits with their friends and family. All visits are through a video recording system. Visitors can use their smartphones or laptops from home or can use a kiosk at the jail for visitation. Visitation can be scheduled online using the Securus Technologies website. An account is needed to schedule a visit.
The Cuyahoga County Sheriff's Office has a warrant division that is responsible for releasing information regarding wanted persons. The division does not release any information over the phone. Information is released in person only.
The Cuyahoga County Sheriff's Office is responsible for releasing public records such as traffic accident, arrest, incident and offense records. The Sheriff's Office has a record division. Record requests can be submitted in person or by mail. The full name of the person involved, their date of birth and social security number is required when submitting the request. There is a $10 fee per record.