Inmate Record Check
Mugshot, Arrests, Bookings & More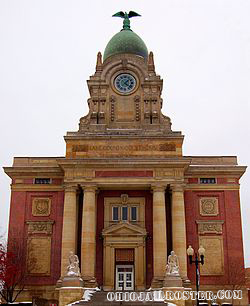 Perform a free Lake County Ohio inmate records search, including jail rosters, inmate list, persons in custody, recent arrests, mugshot lookups, and active booking logs.
The Lake County Jail is a minimum to maximum security facility located in Painesville, Ohio. The jail houses adult offenders who have been arrested and charged with misdemeanor or felony offenses. All inmates are either serving their sentence, awaiting trial or awaiting transfer to a state of federal prison. The jail offers different programs to the inmates such as GED classes, alcohol and drug rehabilitation, religious services, mental health counseling and work release. The jail is responsible for releasing inmate names and mugshots on the jail roster.
Captain Cynthia Brooks, Jail Administrator
Scott Simpson, Executive Lieutenant
Lake County Jail
104 East Erie Street
Painesville, OH 44077
Phone: 440-350-5601
How to Send Mail and Package
Inmates are allowed to receive mail from friends and family members. All mail is opened and searched for contraband.
Mail can be sent to:
INMATE NAME
104 East Erie St
Painesville, OH 44077
Funds can be added to an inmate's commissary account in person only. The jail only accepts cash.
Visitation Hours
Inmates are encouraged to visit with their friends and family members while they are incarcerated. Inmates can visit in person or via video.
Onsite Visitation:
Male Inmates:
Monday, Tuesday, Thursday and Friday
1 pm to 2:30 pm and 6 pm to 8 pm
Sunday
8am to 10:30 am, 1 pm to 2:30 pm and 6 pm to 8 pm
Female Inmates:
Wednesday
1 pm to 2:30 pm and 6 pm to 8 pm
Saturday
8am to 10:30 am, 1 pm to 2:30 pm and 6 pm to 8 pm
Video Visitation:
Monday-Sunday
8am to 10 am, 11 am to 2:45 pm and 4 pm to 11:30 pm
The Lake County Jail has a public jail roster which is updated weekly. The roster lists the inmates in alphabetical order. The inmate's name, mugshot, arrest date and charges are made public.
The Lake County Sheriff's Office has a most wanted list. The list features the fugitive's name, mugshot, identifying features, last known address and reason they are wanted.